Mississippi
Woodall Mountain, Elev. 806 ft

Completed 12/30/06 - #24
(start at #1)
---
This one wasn't planned. Our trip to the top of Mississippi came about as a result of that old adage, "If life hands you lemons, make lemonade."
The plan for the holidays WAS: Visit family in TN, drive to the Florida highpoint, party in Pensacola, fly back home to Dallas from Birmingham (using frequent flyer points sometimes gives you tortuous routings).
We arrived back in Birmingham and that was when things started to go sour. Nasty weather in Dallas caused our Birmingham flight to be cancelled. The subsequent flight in was also cancelled, meaning there would be no AM flight either. Denny started frantically using Google Maps and determined that we would in fact be home quicker if we started driving.
New plan: Drive to Tuscaloosa, have dinner with my stepbrother and his wife, and then continue home. After a great dinner visit and a trip to the bookstore, it ended up being later than we thought and thus began Plan C.
"You know, the Mississippi highpoint is not THAT far out of the way, we have a rental car and some time." Let's do it!
We're sorry to say that Mississippi doesn't seem too proud of its highpoint, nearly all the signs pointing to it have been vandalized or removed; we saw no trace of the ones shown in our guidebooks, making the road to the top a bit difficult to find. There is a newer house right at the entrance to the road now, and the road almost looks like the driveway.
We persevered and finally found the top along with the survey marker. It was at this point we discovered the truly remarkable coincidence of the last 3 letters of the license plate on our rental car...HPT!
There wasn't too much in the way of scenery...the only clear view was through where the electrical lines were cut.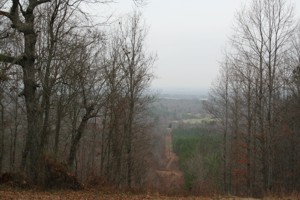 There was also quite a bit of trash at the highpoint, so we took a few more shots and headed out, seeing no reason to spend much more time there.
We also ended up going to a Civil War museum in Corinth, which was very interesting, and saw a cute old depot in the town as well.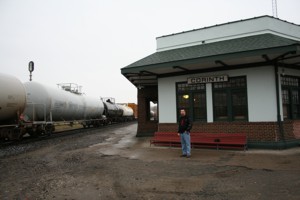 Looking back on the trip it was clear that the unpleasant events that resulted in our obtaining this highpoint were definitely a blessing in disguise. We would have hated to have paid for a trip specifically to see Mississippi's highpoint, given that it's probably the worst kept one we've seen, and it would have been hard to combine it with any others we hadn't done yet.
Back to the previous highpoint
Back to Denny & Christy's highpoints page
---
Copyright(c) 2004 Clearskies Networks. All rights reserved.