Kentucky

Black Mountain, Elev. 4139 ft

Completed 12/26/08 - #25
(start at #1)
---
Halfway finished with the 50 states!
We've gotten a lot less frequent in our highpointing activities unfortunately. It took us almost 2 years to the day to attain another summit!
Nonetheless over the holidays since we were in the neighborhood and had a little free time, we decided to make the drive from East Tennessee up to Black Mountain in Kentucky.
This highpoint is privately owned by a mining company, so you must obtain a waiver before visiting (it is sufficient to have the signed waiver on your person as you visit).
The drive up wasn't that scenic, plus it was a pretty hazy and overcast day, so the only real thing to see was the effects of the mountaintop mining that is prevalent around the whole area.
As shown in our guidebooks, most of the approach to the Kentucky highpoint is actually in Virginia. You barely cross the border and see the turnoff for the road to the highpoint. You pass an FAA radar facility on the way up. At the top there is a tower that is not accessible to the public.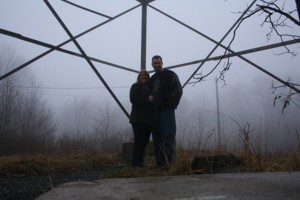 Here we are under the tower, right by the USGS survey marker.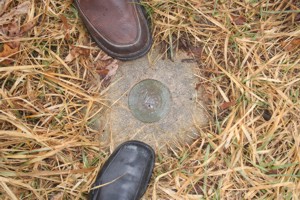 It's a decent size tower, looking a little eerie in the haze that day.
There were some interesting rock formations right near the tower, and several vehicle paths leading away from the summit as well, but we didn't venture too far due to the hazy conditions and cold.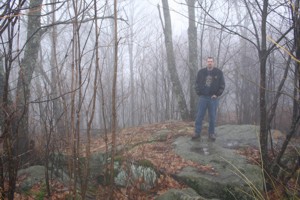 Every now and then on the drive to and from Black Mountain there were some attractive scenic overlooks.
But unfortunately all too often the scars of years of mining take their toll on the view.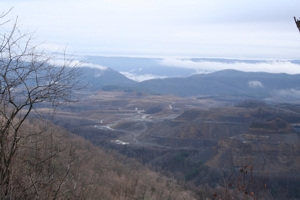 All and all it was a fairly easy highpoint to attain, but being our 25th it's still somewhat special since we've now been at the highest point in half of the United States. Here's to 25 more!
Back to the previous highpoint
Back to Denny & Christy's highpoints page
---
Copyright(c) 2004 Clearskies Networks. All rights reserved.