Texas

Guadalupe Peak, Elev. 8749 ft
Completed 11/22/03 - #7
(start at #1)
---
We decided it was time to tackle our home state highpoint. The Highpointers Club ranks Texas as 13th out of the 50 highpoints in difficulty (It's the 14th highest!)
We flew into El Paso on Saturday evening, and drove to the Guadalupe National Park (or near it). We thought we would "just find a hotel" when we arrived. It is important to note, there is NOTHING between El Paso and Carlsbad, NM! Thus, we drove past Guadalupe National Park and stayed the night in Carlsbad.
We started at the trailhead at 8am on Sunday. The very first part of the trail was a quick gain of about 1000 feet.
The hike took us a total of 8 hours to get to the top and back. It was 8 miles round trip, with a total elevation gain of approximately 3000 feet. Of course, that first 1000 feet up meant that was the last part we had to deal with on the way down. Christy's knees and Denny's toes were abused.
Because the mountains are part of an ancient barrier reef, there were interesting fossils, sea shells, and rock striations. The entire trail was covered with quartz rock that glittered everywhere the sun shone on the trail's surface!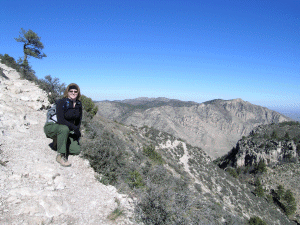 The view of El Capitan from above and behind was amazing.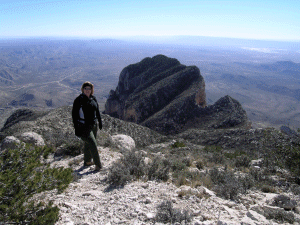 Once we reached the top, we met Tom, another hiker. He was kind enough to take our picture with the commemorative pyramid placed on the summit. And look, Driskill made it too! Thanks Tom!!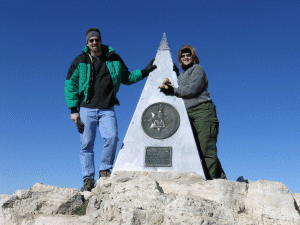 After our hike, we had to hightail it back to El Paso to catch our return flight. Although we were worn out, we stopped briefly for some pictures of the mountain in the fading sunlight and the neighboring salt flats. It's good we don't have a picture of us in the airport....we looked rough! Back to work Monday mornin'!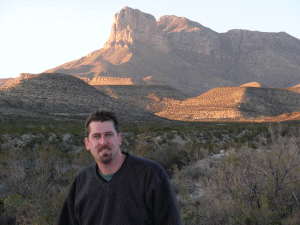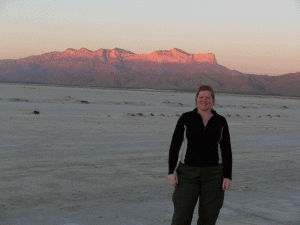 Back to the previous highpoint
Back to Denny & Christy's highpoints page
---
Copyright(c) 2004 Clearskies Networks. All rights reserved.