South Carolina

Sassafras Mountain, Elev. 3560 ft
Completed 4/10/04 - #9
(start at #1)
---
South Carolina doesn't particularly advertise their highpoint, in fact there wasn't even a sign as we turned off Highway 178 in Rocky Bottom. It's a shame, because it's a nice area that could probably benefit from some tourism. You can drive to within 100 yards of the summit and walk up a short paved road to the top.
The USGS marker is easily found but it doesn't really appear to be at the highest point.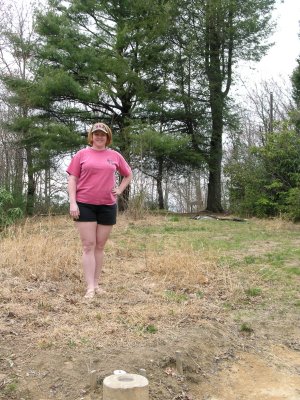 There's not much to see through the trees, and there's some small buildings owned by Duke Power company nearby, making this a fairly unspectacular highpoint. But we had #9!
We left our business card in the register and met a nice couple, Alan & Debbie. We told them we were on our way up to the Blue Ridge Parkway to attain Mt. Mitchell (NC highpoint) and they told us about some of the better views and sights on the Parkway. They even gave us their map! Thanks guys! Their recommendations were well received, as we shall detail on the North Carolina page.
Back to the previous highpoint
Back to Denny & Christy's highpoints page
---
Copyright(c) 2004 Clearskies Networks. All rights reserved.