North Carolina

Mt. Mitchell, Elev. 6684 ft
Highest peak east of the Mississippi
Completed 4/10/04 - #10
(start at #1)
---
After completing the Georgia and South Carolina highpoints, we headed to Mt. Mitchell in North Carolina. Our third in one day!
We traveled up the Blue Ridge Parkway to the parking lot approximately 100 yards below the summit. Clouds started to roll in, and at 6500+ feet, it was quite chilly. There was still snow on the ground!
The views from the summit tower were a bit obscured by the clouds; however, we did manage to get some decent pictures, including the obligatory "sign and tower" pics.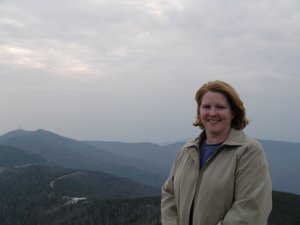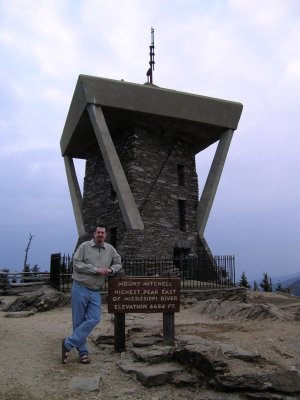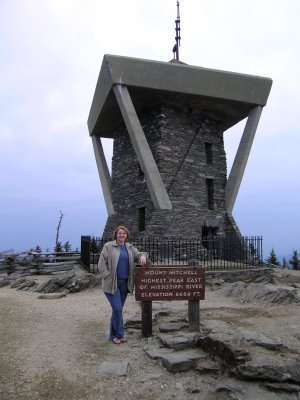 You can see Elisha Mitchell's gravesite in the fenced area below the tower. There appeared to be a spot in the floor of the tower where a USGS survey marker once was, but it was removed or stolen at some point.
Armed with the recommendations made by our fellow highpointing friends from South Carolina, our trip along the Blue Ridge Parkway back to Atlanta was beautiful and provided more scenic views, including the Graveyard Fields. This area was a forest, destroyed first by tremendous winds, uprooting everything, then, in 1925, a fire destroyed the recovering forest. Sad, but true. However, the best attribute of this stop was the adjacent trail leading down to a beautiful waterfall!
While making our way back to Atlanta, we noticed we could bag another high point! The highest point on the Blue Ridge Parkway!!!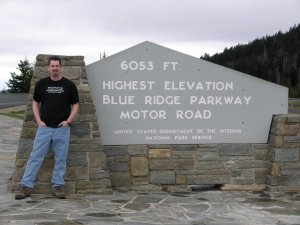 Back to the previous highpoint
Back to Denny & Christy's highpoints page
---
Copyright(c) 2004 Clearskies Networks. All rights reserved.