Pennsylvania

Mount Davis, Elev. 3213 ft
Completed 11/12/05 - #17
(start at #1)
---
After nearly a year we finally managed to complete some more highpoints! We chose our trip so that we could bag 3 in one day. After flying into Baltimore we drove across Maryland and spent the night in Morgantown, WV. It's a cute little college town that we would like to visit again sometime. We woke up early the next morning and headed out to our first highpoint of the day, Mount Davis in Pennsylvania. Here's Christy at a scenic overlook on the way.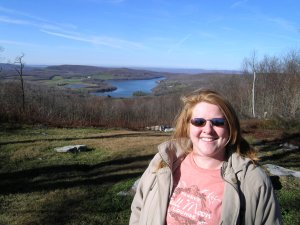 The Mount Davis area is set aside as a state park, so we were able to drive right up and walk a short distance to the tower that marks the highpoint area. Here's Denny posing with one of the signs leading up the trail.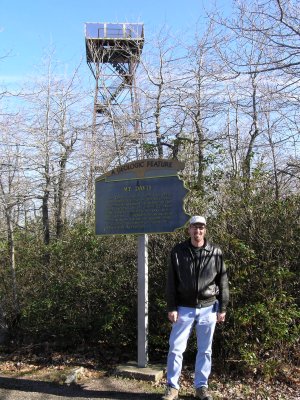 Success!! The actual highpoint marker is on top of a large boulder near the tower. It's too bad that idiots chose to deface the rock with grafitti, but hey. And LOOK! Can you spy who is held aloft in Denny's hand? YES it is Driskill returned to his proper place with us atop the states!! We had missed him on several previous highpointing trips so we made sure to bring him along :-)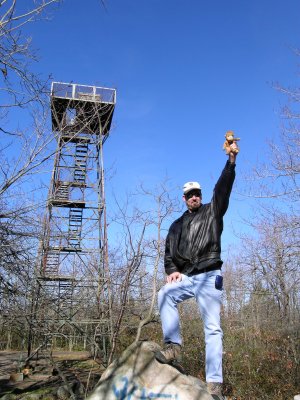 Driskill again with some of the plaques posted at the highpoint area.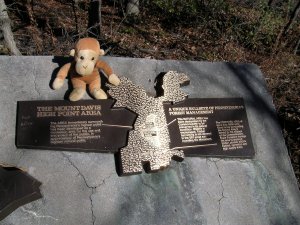 And what trip to Pennsylvania would be complete without a picture of an Amish man
in his buggy?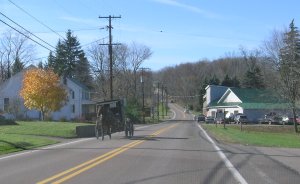 Next up, a short drive to the top of Maryland!
Back to the previous highpoint
---
Copyright(c) 2004 Clearskies Networks. All rights reserved.