Michigan

Mt. Arvon, Elev. 1979 ft

Completed 9/26/04 - #14
(start at #1)
---
After staying in Marquette, MI for the night, Christy got her first look at one of the Great Lakes - Superior. On to Mt. Arvon!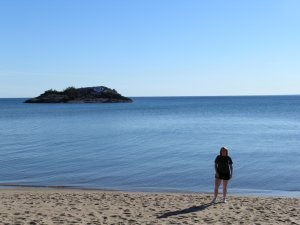 Once again, our guidebooks had excellent directions. When we reached Sawmill Rd. in Skanee, we were looking for the right turn on Church St., (formerly Roland Creek Rd.) which has apparently changed names again! There is a street sign for Roland Lake Rd.
The gravel roads were very passable, even in our rental Ford Mustang; however, there were several side roads that could lead you astray!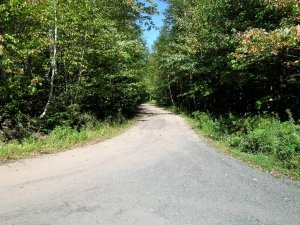 We had considered bagging this highpoint the day before and were happy with our decision to wait. It would have been nearly impossible to find the way at dusk! We found the gravel pit as mentioned in the books and followed the road to our right. At some point we started to see the light blue diamond signs and followed them until we could go no further.
The trailhead is blocked by a concrete slab, but an alternate trail has been created in order to get around it.
Some other visitors there that day had driven to the top in their Jeeps. Since the Mustang we were driving was not equipped for that, we chose to enjoy the easy walk to the highpoint, approximately 200 yards away.
Most of the trail was probably drivable, until we ran into this mud puddle.
Our guidebooks warned of road hazards when it has been raining. We were fortunate enough to have had 2 sunny days in a row.
Hurray! Our 14th Highpoint!
Back to the previous highpoint
Back to Denny & Christy's highpoints page
---
Copyright(c) 2004 Clearskies Networks. All rights reserved.