Louisiana

Driskill Mountain, Elev. 535 ft
Completed 11/8/03 - #5
(start at #1)
---
On a weekend trip from our homes in Dallas/Austin we decided to bag the Louisiana and Arkansas highpoints.
Because the Louisiana highpoint is in a logging area, the dirt roads make it an easy walk, but they were not marked very well, and we had to back track once or twice to get back on the right path. Therefore, we are including some detailed directions to assist anyone who follows after us. Keep in mind this is an active logging area, and the route may change.
Using the guide books mentioned earlier, we easily found the Mt. Zion Independent Presbyterian Church and started down the road, on the left side of the church.
There was a "No Trespassing" sign at the first gate; however, highpointers are welcome.
When you follow the road on the left side of the church, you will come to the first fork leading into the wooded area.
Take the left fork. Denny is kind enough to point the way.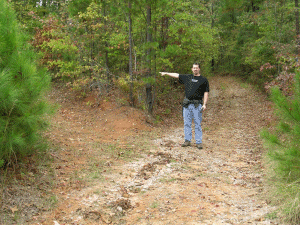 Just a bit down the road, you will come to a locked gate that is easily bypassed. (You're on the right path!)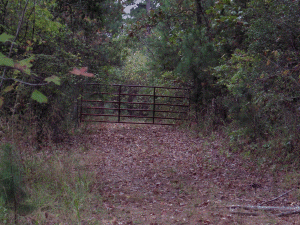 At the next fork, don't enter the clearing ahead, bear right.
At the top of that hill, you will reach another fork in the road. Bear right again, up the mountain.
Very soon after this turn, at the next fork (really a sharp bend back to the left) look UP and to your left for a small metal sign pointing the way to Driskill Mountain. It is well above eye level.
Again, Denny is happy to assist. By the way, Denny is 6'4", so look UP!

Once you're on this section of the trail, it is an obvious route to the summit. There is a rock cairn and a registration box at the highpoint.
You may notice our mascot in this picture....this being his first highpoint with us, we named him Driskill.
He will accompany us on the rest of our highpoint adventures!
Back to the previous highpoint
---
Copyright(c) 2004 Clearskies Networks. All rights reserved.