Oklahoma

Black Mesa, Elev. 4973 ft

Completed 8/14/04 - #12
(start at #1)
---
After resting up from our Wheeler Peak climb at the Kokopeli Lodge in Clayton, NM (highly recommended if you go through there!), we headed to The Merc in Kenton, OK. Highpointers are very welcome here and the owner Allan Griggs (a fellow highpointer) was interested to hear about our travels.
On to the Black Mesa! During the 2 mile walk across the preserve we saw evidence of ancient lava flow, very reminiscent of our trip to Iceland. The different mesas all around were an unusual sight.
Along the way we could see the sandy earth under the lava rock. After our hike, we learned that lava flow from long-gone New Mexico and Colorado volcanos covered this land and preserved these mesas from erosion!
The hike to the top of the mesa was fairly easy, then another mile to the highpoint monument. Our feet were sore from coming down from Wheeler Peak the day before, so the trek on mostly flat ground was welcome.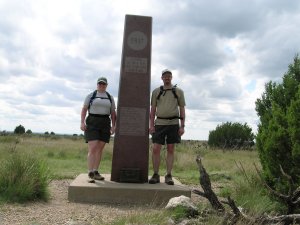 The views were wonderful around the edge of the mesa. Otherwise, you would think you were on flat ground. Oh, I guess we were!
On the way back, we ran into some Oklahoma wildlife and stopped to admire some of the flora. Christy was especially interested in these flowers growing in the sandy soil along the side of the mesa.
After completing the 8.6 mile round trip trek we were satisified with our 2 highpoints accomplished in as many days. Driving down to Amarillo to fly home, we encountered one of the fiercest storms we've ever been in, complete with golf ball sized hail and black clouds reaching the ground. We had to turn back for a few miles until we were sure we weren't going to drive blindly into a tornado! It was definitely an interesting end to our trip!
Back to the previous highpoint
Back to Denny & Christy's highpoints page
---
Copyright(c) 2004 Clearskies Networks. All rights reserved.