Rhode Island

Jerimoth Hill, Elev. 812 ft
Completed 10/12/03 - #2
(start at #1)
---
Jerimoth Hill would seemingly be an easy target at 812 feet, but the actual highpoint is on private property. Accordingly, the Highpointers Club has arranged several open access dates with the the property owners each year so they are not bothered with highpointers on their property year round. We planned a trip to New England to coincide with one of the open access dates for Jerimoth Hill in 2003. It was a rainy day but we conquered the rock!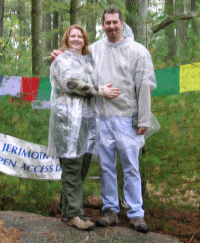 According to the Highpointers Club newsletter, there was a nude highpointer from New Hampshire that day, but we must have missed him!
Please respect the property owners' rights if you decide to travel to this highpoint, and only attempt to go to the actual highpoint rock on the open access dates. The club recognizes the sign along the road as proof of obtaining the highpoint if you happen to go when the property is closed.
Back to the previous highpoint
Back to Denny & Christy's highpoints page
---
Copyright(c) 2004 Clearskies Networks. All rights reserved.